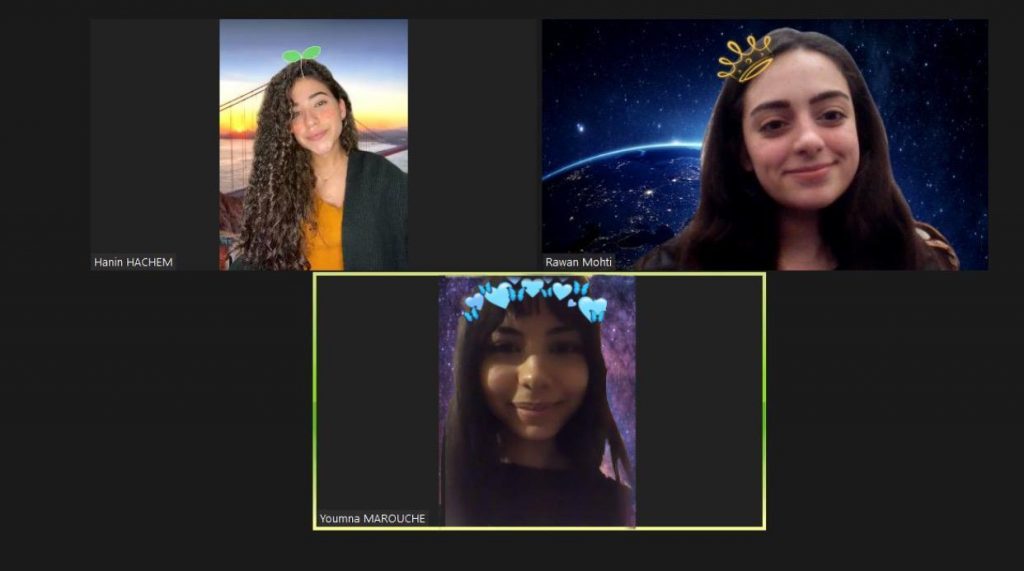 Close to the screen, close to the heart… Under the COVID-19 rule, we strive. Abiding by strict lockdown measures, we thrive. Leaving our beloved campus behind, from different corners of Lebanon we still write. Meeting on ZOOM became normal in our life, but today, the 16th of February is one of its kind. And since we see ourselves clearer through someone else's eyes… we present to you the class of 2021 in a few lines…
 Youmna MAROUCHE through the eyes of Rawan MOHTI
Serene, peaceful and calm; nothing (or little) seems to disturb her state of mind. She's a quiet volcano that could erupt, causing a flow of the most brilliant ideas. To catch her attention, you would only have to pronounce the word "Tripoli" and she will passionately talk about her hometown and its hidden gems. Knowing her, she would also invite you to visit and be your guide.
Rawan MOHTI through the eyes of Hanin HACHEM
Rawan, the Crohn's superwoman, lives her life in purple. Her ultimate goal is to educate people about this disease and support those who suffer from it. She's a language enthusiast, she loves reading and writing. She is also passionate about being a reporter: you just have to hear her read in order to know that. A perfectionist at best, Rawan is a know it all; working hard all of the time to be the best possible version of herself.
Hanin HACHEM through the eyes of Youmna MAROUCHE
English is her passion; she would love to be a journalist or a copywriter. She always impresses us with her way of writing. She accepts all challenges and tries to win them. And if you see her drawings, you would say she is an artist! A strong character, she adapts to others easily and understands them. Hanin… She's the sweetest girl you will ever know!